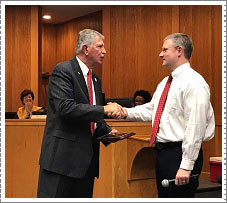 Jonathan Enns, Principal of FVHS was named Wake County's 2017 Principal of the Year. Congratulations and thank you, Jonathan, for your leadership
He was recognized by the Fuquay-Varina Town Board on October 17!
Fuquay-Varina Chamber's Education Council
The goal of the Education Council is to foster increased community awareness and support of our local schools. We work with Fuquay-Varina High, Fuquay-Varina Middle, Fuquay-Varina Elementary, Lincoln Heights Elementary, Ballentine Elementary, Herbert Akins Elementary, Banks Road Elementary and Willow Springs Elementary, as we:
We forward newsletters from the Town of F-V, F-V Revitalization, Parks & Recreation, etc., to our schools for that staff may feel a better connection to the
We encourage businesses to allow staff at schools to participate in our Member-to-Member discount program by displaying their WCPSS badge.
We honor a deserving staff member at a school quarterly at our Business After Hours. This honor rotates among the eight schools.
Excellence In Education Award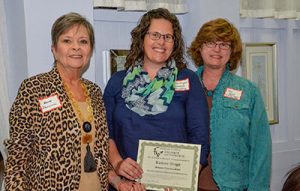 A deserving staff member from one of our schools is recognized quarterly at a Business After Hours with the Excellence in Education Award and a gift certificate redeemable at any Chamber member.  The Award rotates among our schools. Thank you to Mathnasium, Johnson Optometrics for sponsoring award this year!
"It is wiser to build a child than repair an adult."
Follow local schools on Twitter . . .
@FuquayVarinaES                    Fuquay-Varina Elementary School
@FuquayVarinaMS                   Fuquay-Varina Middle School
@FuquayVarinaHS                   Fuquay-Varina High School
@WillowSpringsES                    Willow Springs Elementary School
@BanksRdAP                           Banks Road Elementary School
@BESFirefly                              Ballentine Elementary School
@lhestigers                              Lincoln Heights Elementary School
@herbertakins                         Herbert Akins Road Elementary
Fuquay-Varina Business Alliance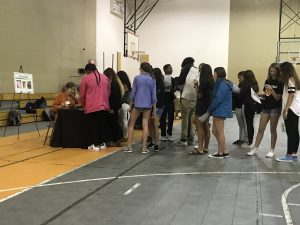 The Business Alliance is a partnership between business leaders and educators to help every student make responsible, productive career choices by assisting with activities at school and in the workplace. Business Alliances, as part of the School-to-Career Council of WCPSS, get involved with career fairs, practice job interviews, discussions about business ethics, field trips, site tours, internships, guest speaking and resumé reviews to mention a few.
On October 12, 285 FVHS students were transformed into 25 year-old working adults as they worked their way through State Employee Credit Union's financial literacy event. They chose options for groceries, transportation, housing, clothing, entertainment, health insurance, etc.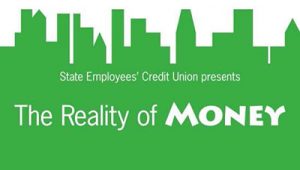 It takes about 30 volunteers for each session . . . there were 4 sessions . . . to execute this eye-opening activity. Thank you to all who volunteered!
Thanks to Assagios, Jersey Mikes, Stick Boy, Krispy Kreme, Food Lion and Harris Teeter for feeding our volunteers!
Thank you, Front Porch Realty for collecting school supplies for our LOCAL schools.
Youth Leadership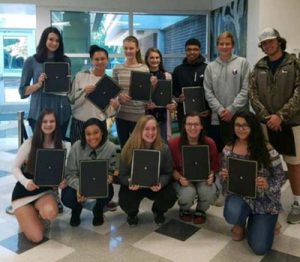 The newest initiative related to education is a leadership development program focused on building the leadership capacity of students with potential. Teachers have nominated students and those students have applied to participate in the program which begins in November with a team building event. Follow up will be monthly, alternating between leadership seminars and activities one month and community service opportunities in alternate months.
The business community has stepped forward to help make this initiative a reality. Thank you YMCA, Becky Medlin Realty, MMIA, Windsor Point and Bob Barker for offering meeting space!
Thank you Four Oaks Bank for sponsoring transportation cost for students!
Thanks to Laura Moody, Front Porch Realty; Robin WellingsLoftus, Edward Jones and Bob Graham for your contributions to make this a reality!
There is still an opportunity for businesses to join MMIA by being a breakfast or lunch sponsor!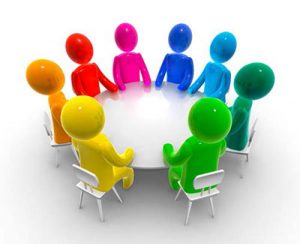 Career awareness at FVHS is accomplished during Roundtable discussions. Students with similar career interest join a table presentation from a professional in that career area.
At FVMS, this awareness happens during Breakfast and Learn sessions that are similar to those at FVHS.
Thank you to those who participated in giving our students an insight to your career!
How Can You Help?
Schools are always looking for volunteers . . .
Adopt a school with a monetary, supply or other donations
Be student mentors
Serve as readers for children
Allow students to visit, job shadow or intern in your business
Serve as speakers to students
Proctor tests
Provide technology related items for school
Eat lunch with or be a lunch buddy
Provide books for the school
Volunteer for Reality of Money or other career development activity, such as career speakers,
Specific needs:
FVMS students are at a disadvantage as they compete in track and field events with other middle schools. They do quite well with their "make shift" track, which is a grassy run around the soccer and baseball fields! The big disadvantage is with the high jump and long jump competitions, as there is no facility for them to practice but yet they are expected to do well in The coaches are willing to dig the pit themselves, but the needs go beyond a hole in the ground! Sand for the long jump would cost about $50. The high jump package is a little pricier. The package includes the mat system, weather cover, standards and crossbar and costs about $5,000 – $7,000.
Terrance McCotter, Principal at FVMS would like community support for an updated signage at the corner of Ennis and Academy Streets.
Willow Springs Elementary is trying to revamp our K playground, which has experienced much erosion over the years, and is in great need of re-grading and the building of a stone wall. We  have PTA money and grant $$, but they still need some volunteer labor…we'd love some help from a Chamber member who would partner with us!
Fuquay-Varina Elementary would like sponsor group, family or individual to maintain their  preschool courtyard. They also have a need for more male mentors for
Fuquay-Varina High School has students who need internship opportunities . . . can your business use one?
If you would like more information regarding any of the above opportunities, please contact the Chamber or the individual school!
The following two tabs change content below.

Kate MacMonagle is the Membership Services Director at the Fuquay-Varina Chamber of Commerce. With skills ranging from project management to client services, Kate has the knowledge and experience to handle the changing needs of the Chamber and its members. Her duties for the Chamber include communications, event-planning, and membership support services. She is a Fuquay-Varina resident and enjoys being part of the growth and development of the town she calls home.

Latest posts by Kate MacMonagle (see all)