Throughout its history, Fuquay-Varina has known explosive growth, beginning in the 1890s with the town's popular mineral spring. During the Great Depression of the 1920s and '30s, it was one of only three cities in Wake County with population increase-tripling in size. Today is no different, as the town has more than doubled in the last decade and is expected to triple in the next.

Relocation of people to work in Raleigh and the Research Triangle Park, in addition to the overall population boom in the state, is directly spurring this. At a mere 15 miles southwest of Raleigh and a short 35-minute drive to the Research Triangle Park, Fuquay-Varina's ideal location makes a mix of small-town living with big-city amenities possible. State highways 55 and 42, and U.S. 401 converge into Main Street in the eastern part of the town, making access to many areas in North Carolina extremely convenient.
The Town of Fuquay-Varina is being intentional about what it does now to prepare for the future. They have made a large investment in future infrastructure. Bonds have been approved to extend items such as water, sewer, streets and sidewalks, and parks. The Town is welcoming to new business and is actively engaged in finding local real estate for economic development sites and promoting Fuquay-Varina to the world.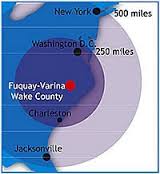 Nearby Wake County Technical College, the second largest community college in the state, has also played a role in keeping this region ahead of the curve. Wake Tech offers a broad scope of continuing education courses, including training for local entrepreneurs and small business owners, public safety officer training, and non-credit courses for personal and professional development. This means that business owners and employees have access to exceptional classes that allows them to continue expanding and increasing their knowledge base.
Room to grow, a friendly and welcoming population, a forward looking government, and resources and amenities within easy reach, are some of the many reasons why more businesses are looking to call Fuquay-Varina home.