The Fuquay-Varina Chamber of Commerce Governmental Affairs Committee reached out to 2017 Mayoral and Town Commissioner candidates to create this voter's guide.  Each candidate was asked to provide a brief bio and their answers to 6 questions. We asked the candidates to limit their bios and responses to 150 words. We have not edited the bios or responses, but in the event a response exceeded the 150 word limit, they have been trimmed. Below are the responses we received.
Questions
We asked the candidates to respond to the following questions:
Why are you running for the office of Town Commissioner or Mayor of Fuquay-Varina?
In what ways have you been in service to the Fuquay-Varina community prior to running for office?
What will your voice bring to the Town Commission in the future?
If you are elected, what would you like to accomplish in your first year (or your next year if you are an incumbent)?
What are the top two critical issues facing Fuquay-Varina today?  How would you prioritize them and address them directly if elected?
What is your vision for Fuquay-Varina planning over the next five years?
Mayoral Candidates
John W. Byrne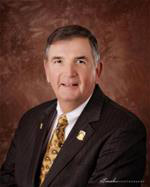 John Byrne has been the Mayor of Fuquay-Varina, North Carolina for 16 years and is the only Mayor to serve nine consecutive terms in the Town's history.
As Mayor, some of the notable achievements by the Town under John's leadership include the construction of the NE and SW segments of Judd Parkway (a regional transportation loop around the Town's center core) and completion of the final segment of Judd Parkway is anticipated to open in 2020; downtown revitalization and streetscape enhancements; inclusion in the North Carolina Main Street Program; acquisition, development, and renovation of numerous community parks; completion of the Public Service Center; expansion of the Terrible Creek Waste Water Treatment Plan; planning that supported the new development of residential subdivisions and commercial properties; and the formation of sound financial policies that resulted in an upgrade of the Town's bond rating to AAA.
Answers
To continue the planning and long term goals, and completion of important transportation and infrastructure projects that our Town Board has set forth. Also, the Triple A Bond Ratings and the financial strength that our Town now enjoys.
Lion's Club, Jaycees, Rotary Club, Chamber Commerce Board of Directors, Centennial Authority Board of Directors and Member of the Knights of Columbus
Understanding of the growth challenges that FV currently faces and will face in the years to come.
Completion of the planned improvements on roads and infrastructure for our Town, which is essential for our growing community.
Growth management and maintaining professional employees. Planning on the growth side and recruiting, educating and training our staff to help us to become all we can be through professional training.  We have had over a dozen directors to complete the Municipal and County Administration for the UNC School of government and very proud of this because it has helped bring a sense of professionalism to the Town.
FV is in a growing part of North Carolina and Wake County and I am sure we will continue to grow with the help of proper planning and professional staff. Recent adoption of a new Land Use Plan, Community Transportation Plan, and Land Development Ordinance better positions the Town to Manage the growth challenges of the next five years.
Steven Allen Hall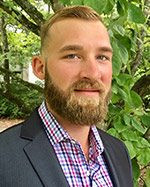 I was born and raised in Goldsboro NC, but Fuquay is, and will always be my home. My education is in Sustainable Agriculture and Technologies, and I am passionate about nature, family, and sustainable living.  I own a small property maintenance company here in Fuquay that I run with my wife, who is a 7th generation Fuquay girl. Together we're raising a beautiful little daughter named Varina.
Answers
I'm running for the office of Fuquay-Varina Mayor because I love this town, and the unique environment that makes it the place in which many like myself have chosen to raise their families. My desire is to use my vote and influence as mayor to reflect the needs of the people, and small businesses that currently make Fuquay so special. I wish to be instrumental in the preservation of quality and sustainability as to better serve the families and individuals who live here.
I practice what I preach when it comes to supporting local business. I have, and continue to do my shopping and dining almost exclusively in Fuquay, and in privately owned businesses as often as possible. I have spent many hours conversing with downtown business owners, learning their stories and listening to their concerns. I keep the majority of my business here in town, always provide honest service, and refer locally provided services as frequently as I can.
My voice will bring transparency, and fresh perspective to the Town Commission. I will listen to every concern brought to the table without bias, and genuinely consider every viewpoint presented with an open mind. I will do nothing solely for appearances sake, and all of my decisions will be based on what is best for Fuquay, and Fuquay's current residents.
My first year as mayor will be dedicated to further familiarizing myself with the local businesses, and the operations of our local government. I will commit myself to working on areas of improvement, and supporting ongoing projects.
Traffic, and public awareness of local businesses and town resources. I will work to assist in the forward movement of current road expansion projects, and support policies and guidelines that will help prevent future projects from worsening the flow of traffic. I will make a goal of streamlining communication between the town government and residents, as well as prioritize the maintenance, continued renovation, and advertising of our business district.
My vision for Fuquay-Varina planning over the next 5 years is seeing an increase in the number of quality small-businesses, and a focus in quality over quantity when it comes to local housing. My vision involves Fuquay-Varina maintaining and growing in its uniqueness during this time of growth.
Commissioner Candidates
Tim W. Beck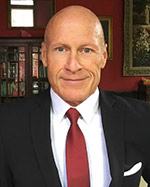 My name is Tim Beck, and I am seeking the office of Fuquay-Varina Town Commissioner. I am a life-long resident of Fuquay, and I graduated from Elon University in 1979 with a degree in education. I have worked as a commercial/residential developer and builder in Fuquay for over 25 years. I attend Wake Chapel Church, and am married with four children.
Answers
I am running for this office because I love Fuquay, and this is where my roots are. I believe because of my business knowledge and experience in development, I have something to offer the community.
My family and I have been instrumental in a great deal of the commercial and residential development of Fuquay for the past 35 years.
Hopefully the voice of moderation, as well as the viewpoints of those who believe that we should manage growth for the sake of quality of life.
Promote local business, and assist them financially if needed. Recruit new business as a means of providing local jobs, as well as sources of recreation. Temper high-density growth in order to protect the small-town flavor and landscape of Fuquay.
Traffic, and traffic. Slow High-density residential projects near problem traffic areas. Study widening projects of particular thoroughfares.
Again, moderation in growth, with emphasis on infrastructure, existing business district, and preservation of Fuquay's small town rural culture.
Mark Andrew Ivey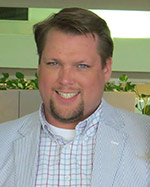 I grew up in Richmond Virginia, and moved to Raleigh at 21, after getting married I moved to Fuquay-Varina at 22.  My wife, Ginny, and I have two daughters, Reagan and Mackenzie, and we have loved living in Fuquay for 9 years.  We regularly attend church at Hayes Barton Baptist Church in Raleigh.  We spend any time we can with our girls at South Park, and enjoy taking them to local restaurants, Reagan loves the corn fritters at The Mason Jar, and Mackenzie loves the candied bacon at The Aviator Smoke House.  My favorite hobby is building old motorcycles, and I work for a small business in the area.  I have called Fuquay-Varina my home for nearly 10 years and look forward to spending my life here.
Answers
I am running for the office of town commissioner for a few reasons.  I spent a good amount of time talking with local businesses, Aviator, Tilley Brothers, just to name two, about what they need from the town, and what can be done for them.  As well as speaking with individuals every chance I get.  It seems that there has been some forgetfulness of our commissioners, they are elected to work for the town, not for themselves.  I am running to bring a since of responsibility back to the people of Fuquay-Varina, to show strong stewardship of our towns money, and the way we develop.  And I really hate the traffic.  Any future development should be done with the first thought of how this impacts our current residents, not how it makes our tax base bigger.
The service I have done for Fuquay-Varina is serving in the local Masonic Lodge.  We offer charity to the community when asked for, and we have a great scholarship program that we offer to Fuquay-Varina High School.  State wide we also work with the Oxford Home for Children, providing for children who haven't found their forever family yet.
I hope to bring a voice of reason to the town commission.  I am a pragmatist, not someone to excite easily.  I want to bring a sound logic to the commission, and look at things objectively.  I am at Campbell University for Communication and Pre-Law, being able to listen to what people need, and then make a decision that is best for all is important.  Things like the 2035 Land Use Plan have issues with it, like where some "small-scale commercial" developments are planned.  The commission needs to have a level headed voice to say "No this is not a good idea".  Someone who can pump the breaks and ask "how does this effect our current residents?"
For my first year in office I would like to come up with a creative solution to finishing the renovations and upgrades to Flemming Loop Park within a year and on budget that also uses donations and community involvement.  It is a good facility, it can be a shining part of Fuquay-Varina, especially for the WRAL Freedom Balloon Festival.  I also want to have a study done on what the 2035 Land Use Plan will do to traffic in our down town, we want these big building projects, like the apartments down town, and we do not yet understand how this will effect current residents.
My top two critical issues are the 2035 Land Use Plan and traffic.  These two go hand in hand, and they are not a one year issue.  They will be an ongoing issue for Fuquay-Varina.  The 2035 Land Use Plan has some wonderful developments in it, but also some questionable rezoning.  Such as using the land off of Judd Parkway down from West Academy Street as "small-scale commercial".  This land is in the middle of nearly ten large residential developments, "small scale commercial" is inappropriate in such an area.  It is important to listen to residents that will be effected by the Plan and hear what they have to say.  Looking at the 2035 Land Use Plan goes hand in hand with our growing traffic issues.  I have spoken with people on the steering committee for the Plan, and they have agreed with me.
My vision for Fuquay-Varina for the next five years is simple.  Focus on the needs of the residents, and the small businesses that make Fuquay-Varina "A Dash More".  Follow our town motto.  Wake County has so many different towns, from Raleigh, Cary, Apex, and Fuquay-Varina.  But we, Fuquay-Varina, are different than all the others, we are still the small town in many ways, but we are growing at a rapid rate.  I want to see Fuquay-Varina be the home of unique economic engines, small businesses that benefit the residents.  New things that offer unique dining, shopping, and service options that aren't everywhere else, and to stand as an advocate for those willing to drive these new, and existing, small businesses.
Jonathan Blake Massengill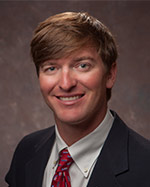 Blake Massengill and his family moved to Fuquay-Varina in 1986, and he now lives in the town with his wife, Heather, and son, Jake. They are excited to welcome a new daughter into their family in November. Blake was elected to the Fuquay-Varina Board of Commissioners in 2013, and was selected as the Mayor Pro-Tem in 2015.  Blake owns Massengill Design Build, a full-service general contracting business based in Fuquay-Varina.
Blake earned a Bachelor's degree in Accounting from N.C. State University in 2006. While working full time in his business, he earned his Master's Degree in Business with a concentration in Finance and Supply Chain Management from NCSU in 2012.
Blake is an active member of the community, serving as Fuquay-Varina Rotary Club President in 2016-17. He also is a member of the Fuquay-Varina Chamber of Commerce and volunteers with Wake County Meals on Wheels and Lincoln Heights Elementary School.
Answers
I initially ran for Fuquay-Varina Commissioner in 2013 because I am invested in this town and felt I could add a unique perspective to the Town Board. I am running for my second term for the same reasons, in addition to being passionate about the Town and desiring to further improve upon the quality of life that I have been a part of achieving. I am raising my family here, my business is based here, and I grew up in Fuquay-Varina. I am committed to seeing Fuquay-Varina continue to prosper. I am proud of the accomplishments we achieved during my first term – such as a AAA bond rating for the first time, a record amount of grant funding, and the largest investment ever in our transportation infrastructure. I want to continue leading Fuquay-Varina the next four years and be a part of what makes the Town a dash more!
I am a very active and involved member of our community. I can often be seen out and about town supporting the many wonderful events that we have here, from concerts to festivals and business openings to charity events.  I make it a priority for my business to support local initiatives, clubs and non-profits.  I am an active member of the Fuquay-Varina Chamber of Commerce and Rotary Club. Prior to being elected commissioner in 2013, I served on the Fuquay-Varina Planning Board. Currently, I volunteer tutor at Lincoln Heights Elementary School. Additionally, I am proud to serve on the Kraft YMCA Board of Directors, where I assist supporting youth in the community as well as volunteer with the Wake County Meals on Wheels program, where I help serving those in need.
I love Fuquay-Varina, and the citizens of this town are my number one priority. For several years, particularly the last four on the Town Board, I have shown that I have the leadership capabilities to lead our Town in a positive direction. Fuquay-Varina is rapidly growing, and we need town commissioners who understand growth and how to plan for it. My background in building and development makes me an asset to the town board. We are prioritizing planning more than ever before. I understand citizens can be frustrated with growth, but we are fortunate to live in such a prosperous area where so many people want to call home. I can proudly tell citizens that I, along with the entire town board, have made traffic improvements, economic development, and town services our top priorities. I will continue to be the voice for those three important areas if re-elected.
I want to see many of the initiatives I have supported as town commissioner come to fruition in 2018. In particular, citizens will see major headway on traffic improvements early next year, such as the Main St./Sunset Lake Rd./Purfoy Rd. intersection expansion and Judd Pkwy./Main St. intersection widening. I am excited to see these projects near completion. I will continue to push for more grant funding and NCDOT investment to improve traffic. Also in 2018, I will continue to advocate for high-end commercial retail. I know our citizens are eager to see more of these projects.  High end retail follows rooftops, so we must continue to expand our residential base to compliment commercial, with a goal of a more well-balanced mix of the two. Finally, I will continue to support the expansion of public water and sewer infrastructure in an effort to plan for expected future commercial and residential development.
The top two critical issues facing Fuquay-Varina are improving transportation infrastructure and expanding town services to meet the needs of our Town's growth. In the past four years, I voted to approve multiple transportation projects, including various intersection improvements and the expansion of major thoroughfares. This continues to be the #1 priority and specific details about these projects are found on the Town's website. I also plan to continue seeking funds to support more transportation improvements. Additionally, we must make sure our Town's services keep up with public demand. I will continue to promote expanding sewer infrastructure and water capacity so that we can support residential and commercial growth. I voted to approve a wastewater expansion project, which will triple sewer capacity in Fuquay-Varina and will be completed in 2018. I further recognize the importance of facility additions to address space needs in both the fire and police departments.
The future for Fuquay-Varina is bright and I don't expect that to change in the next 5 years. We have recently updated our major planning tools –the land use plan, community transportation plan, and the land development ordinance – so we are in a great position for positive growth. Looking forward 5 years from now, I envision Fuquay-Varina to have less traffic congestion because major intersections will be improved and Judd Parkway completed. I also see continued investment in our downtown led by a mixed-use development project and a vibrant arts district. I further envision a high-end commercial retail center on the northern side of Town. All of this will enhance the citizen experience and compliment the investments that the Town plans to make. It is my vision that in five years, the residential/commercial tax base has been realigned from the current 73/27 ratio to something closer to a 50/50 ratio.
Jason Ora Wunsch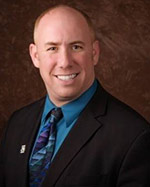 I am a 1996 graduate of Mars Hill College and a 1999 graduate of Campbell Law School.  For the past 4 years, I have proudly served as a Fuquay-Varina Commissioner and for the past 16 years have run the Wunsch Law Firm.  I am currently obtaining an MPA degree from the UNC School of Government.  I have been married for 16 years and have a fourteen year old daughter.
Answers
I am running for re-election as a Fuquay-Varina Town Commissioner because I love our community and have really enjoyed serving our Town.  What I have really valued about being your Commissioner is being able to make decisions that enhance our community and bring our residents together.  The past 4 years, we have spent a lot of time planning and fundraising for our infrastructure and working to bring facilities and events to the Town that give us a strong sense of community.  The Splash Pad, Cultural Arts Center, Follow Me 2 F-V Concert Series and the WRAL Freedom Balloon Festival are all great examples of this effort.   I look forward to continuing with the many efforts that improve our roads and draw our Town together.
I have proudly served as a Fuquay-Varina Town Commissioner for the past 4 years and have served as the Board Liaison to the Fuquay-Varina Arts Council.  I have also been a past Board Member of the Fuquay-Varina Arts Council.  I work as a Volunteer School Board Attorney for Southern Wake Academy.  I have administered a daily, local news page called Today in the Quay since March of 2014.  I have been a member of the Fuquay-Varina Chamber of Commerce and have volunteered and been a member with the Fuquay-Varina Downtown Association.
My voice will bring a continual urging to look toward and plan for our future.  When I was elected at the end of 2013, I told our manager that addressing our traffic was a primary focus of mine.  Since then, we have set out on the most aggressive traffic management plan in the history of our Town.  There is no overnight fix and we are well on our way to making significant progress.  My voice will also continue to advocate for facilities and events that unite us a community.  I will also be a voice that advocates for planning for our future in other ways, such as how we are expanding our waste water treatment capacity, laying network fiber and planning for our future water consumption.
In my first year, my primary focus will be to see that our transportation projects are well on their way to being finished.  There has been numerous steps along the way, and the next board will see the full results of all that planning and labor.  I would also like to see the renovation of Fleming Loop Park begin and work toward a financially feasible plan of getting it completed.
The number one issue facing Fuquay-Varina is traffic.  It's with a doubt, very challenging.  But while 41% of NC Towns are losing people, we are one of the fastest growing Town's in the State.  We are also doing everything we can to address traffic. We overwhelmingly passed a bond in 2015 to fund key transportation projects, as well as received over 12 million dollars in competitive road grants. Our focus must be to continue to work on alleviating traffic, and to continue to acquire funds to improve navigating throughout our community.  Another big issue facing our community is sustaining Downtown Fuquay and its businesses.  The mixed-use project that is being planned will be very important for revitalizing this important part of our community and for supporting local commerce.
Over the next 5 years, I would like to see Fuquay-Varina continue to concentrate on improving our roads, intersections and parkways.  I would like to see us maintain two vibrant downtowns, filled with active local commerce.  I look to see more family entertainment businesses in Town, so that people don't have to leave to find activities to do with their family.  I would like to continue to add wonderful park facilities and see our Town become a more walkable community.
Candidate Forums
To learn more about the candidates running for Mayor and Town Commissioner we invite you to join us for one or both of the candidate forums we have planned.
Tuesday, September 12 at 6 PM – 8 PM
Windsor Point Retirement Community
1221 Broad St, Fuquay-Varina, North Carolina 27526
Monday, October 23 at 6 PM – 8 PM
TCB – The Corner Biergarten
1625 N. Main St., Ste. 133, Fuquay-Varina, North Carolina 27526
The following two tabs change content below.

Stephen Peacock is the owner of Peacock Creative Services, an internet marketing company that helps business attract new customers through digital marketing efforts including website design, search engine optimization, online advertising and social media marketing. Currently he serves as the chamber's webmaster and volunteers on the marketing committee.

Latest posts by Stephen Peacock (see all)