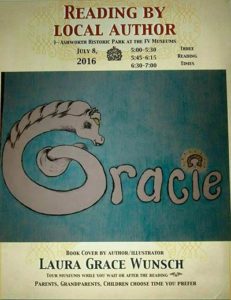 Laura Grace Wunsch, local author and illustrator, will be reading her book, GRACIE, to children on July 8 at Ashworth Park as the museums contribution to Art After Dark. July 8: 5:00-7:00 p.m. 121-131 S. Fuquay Avenue.
Come for readings at 5:00; 5:45; or 6:30 p.m. Bring children and grandchildren. Tour the museums if you have never done so, or want to return for new things.
The following two tabs change content below.

Lynanne Fowle is a former Dir. of Membership Services at the Fuquay-Varina Chamber of Commerce. A writer/editor by trade, she handles communications, event-planning, and membership support services at the Chamber. She also writes fiction and writes/edits non-fiction on a freelance basis. She no longer works for the chamber.

Latest posts by Lynanne Fowle (see all)