I was recently asked by a colleague to come to his video studio to share 3 tips with his audience – any three I wanted. After giving it some thought, I decided to share 3 must-haves for small business websites. But for members of the Fuquay-Varina Chamber of Commerce I've added 7 more for a total of 10 must-haves for small business websites in 2014.
Website Goals
Take a moment to think about what the goals of a website are for most businesses and I'm sure it will include at least the following three things:
Attract visitors looking for your products or services
Interest them enough when they arrive so they stay for a while
Have them take action – whether it is to call, send an email, buy a product, download a white paper – you want them to do something.
10 Must-Haves for Small Business Websites in 2014
In no particular order, here are 10 high-priorities for small business websites in Fuquay-Varina – well here and everywhere else really…
1. Responsive Design
More and more people are visiting your website using a smartphone or tablet. If your website isn't responsive, meaning it doesn't adjust the display to the device viewing it, your visitors or more likely to leave rather than stay and engage with your content. So, don't make visitors pinch or zoom to view your site!
Just consider what the 2014 Local Search Study conducted by Neustar Localeze and 15miles found.  Their research shows 63% of searchers use multiple devices to find local businesses. They also found that 4 out of 5 local searches on mobile devices result in a purchase and 73% of those purchases were in brick-and-mortar stores.
2. Call to Action on Every Page
Visitors could land on any page on your website, not just the homepage. Since the primary goal is for visitors to take action, make it apparent what you want them to do.
Whether it is fill out a contact form, watch a video, make a purchase, or download a white paper, make a clear call to action on every page.
3. Put your phone number near the top of your site as text, not an image.
Search engines know where area codes are and it will improve your local search results.  Plus smartphone users will be able to click on the number and call you directly.
4. Unique Page Titles
Unique Page titles for every page that include keywords for product and/or service and your location served. Research has long shown that people searching locally for products and services craft a search engine query that looks something like, "product/service + local town/city" or just the reverse of that.
When crafting unique page titles remember the following:
Limit the number of length of the title to approximately 65 characters and spaces.  Different search engines will show a different number of characters and 65 is a good average. Learn more about title character limits in search engines here.
Place the most important keywords near the front of the title.
The words you place in your title must appear somewhere in the content of the page itself otherwise, it won't be relevant and could get you penalized.
5. Unique and Optimized Meta Description
Now Google doesn't promise to always serve your meta-description in search results, it important none-the-less to properly configure the meta description.
When creating meta descriptions keep the following in mind:
Length should be between 150-160 characters
Use appropriate keywords, but also make it compelling so when visitors see it in search engine results, they are more likely to click through
Personally, I like to write a good, compelling keyword rich first sentence, keeping the above in mind, and use that as the meta description.  My logic is if someone sees the description in the search results and it is the first thing they see when they arrive on the page, they are more likely to stick around.
6. SEO Friendly URLs
Okay, this one needs a little explanation. SEO stands for search engine optimization and URL stands for uniform resource locator, essentially it is the webpage address.
An URL like https://fuquay-varina.com/mem-ben-37552.asp has little search engine value. However a URL such as https://fuquay-varina.com/membership/chamber-membership-benefits/ is much more optimized.
When crafting URLs keep the following in mind:
Put appropriate keywords in the URL but only if they also appear in the page title and/or content
Try to keep the URL a reasonable length, I shoot for less than 200 characters most of the time, but the only imposed limit is 2048 as internet explorer and others can't process longer urls than that
Use hyphens rather than underscores to separate words and never leave empty spaces in URLs.
7. Easy Navigation
The navigation menu of your site must be easily identified with pages and subpages ordered logically.  Don't hide important information, make it clear how people can find what they want.
8. Sitemaps for Visitors and Search Engines
There are two kinds of sitemaps – ones for visitors – a dedicated page that has a link to every other page on your website that is logically ordered and an XML sitemap for search engines.  Many content management programs can create an XML sitemap (though may require a plugin) but if your site wasn't built with a CMS, you can visit XML-Sitemaps.com to generate yours; once that's done you'll need your webmaster to upload it to the root directory of your website.
9. Social Media Sharing Buttons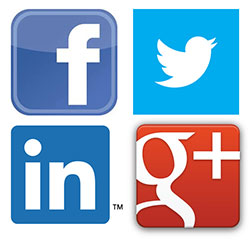 Hey, if you've got great content on your site, make sure you make it easy for your visitors to share it with others. There many options for adding social sharing buttons to any website. And, after all, referrals from friends is the most trusted reference you can get, so make it easy for others to recommend you.
10. New Content Added on a Regular Basis
While I generally think of blogging when I say this, additional pages help as well. Google and other search engines visit websites that are regularly updated more frequently and as your content grows you become more of an authority (in search engines point of view) on your products and services.
When adding content keep the following in mind:
Always add original content – you will be penalized if you copy and paste an entire article from another site to yours. You can cite information from other website, but don't copy an entire article.
Make sure your content answers a question or solves a problem for your ideal customer.  Think of the question or query they would enter in the search engines and use that as your page title and in your meta description.
Always end your blog post with a call to action – what it is you want the visitor to do after they've read your message.
Well, there you go, 10 must-haves for your small business website in 2014.  If you need additional resources or require assistance with addressing these items on your website, contact the Chamber of Commerce for a list of local service providers.
You can also find additional search engine optimization resources on my Optimize Fuquay-Varina blog.
The following two tabs change content below.

Stephen Peacock is the owner of Peacock Creative Services, an internet marketing company that helps business attract new customers through digital marketing efforts including website design, search engine optimization, online advertising and social media marketing. Currently he serves as the chamber's webmaster and volunteers on the marketing committee.

Latest posts by Stephen Peacock (see all)