70th Anniversary & Awards Banquet
Join us as we celebrate the Chamber of Commerce's 70th anniversary at the Awards Banquet on Saturday, April 29th at Carrollock Farms in Willow Spring! This event will celebrate the Chamber's 70 years of providing support and visibility for the business community in Fuquay-Varina, as well as the many businesses and individuals that have been instrumental in helping the Chamber achieve its goals over the years.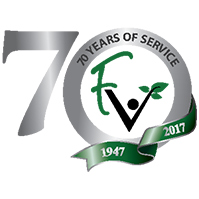 The food will be presented by Hook & Cleaver Market on Broad (see menu below) and a dessert bar will be provided by Sweet Lucille's Bakery (Innovate Fuquay-Varina 2016 winner).
The venue for this event is located at 6818 Kennebec Road in Willow Spring, a mere 10-minute drive from downtown Fuquay-Varina. We will post photos soon of this stunning, brand new event venue. We are excited to be able to enjoy and feature this facility before it books up completely!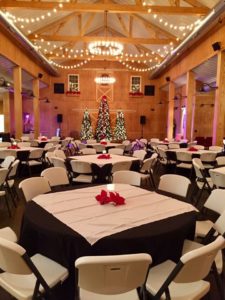 This event is sponsored by Rainbow Home Interiors, but there are additional sponsorship opportunities available. One additional event sponsorship and four (4) table sponsorships remain for anyone interested in participating in that capacity.
Date: Saturday, April 29th
Location: Carrollock Farms, 6818 Kennebec Road, Willow Spring (just off Rt. 42)
Time: 6:00-10:00 pm
Attire: Cocktail
Tickets: $70.00/person (plus $2 credit card fee if purchased online) or $1,000 for table of 10
Award Nominations
Because this is an awards banquet, we invite Chamber members to nominate member businesses and individuals for the following awards (self-nomination is encouraged):
Outstanding Citizen of the Year Award
Long-term commitment of service to enhancing the quality of life in the community. Should be active in all phases of community life (civic, social, and/or governmental).
Business Impact Award
Has been recognized at the local or national level by their peers for exemplary achievements within their industry. Active in the community with a proven record of business leadership.
Social Impact Award
Has been recognized for socially responsible activities in the community, workplace, or their industry. Active participation in the local community is key, but notable accomplishments regionally or nationally will be considered.
Corporate Citizen Award
Has demonstrated leadership at the local or national level in the areas of Environment, Climate Change, Human Rights, Employee Relations, Corporate Governance, and/or Philanthropy.
Rising Star Award
Has dramatically increased visibility within the Chamber community via active support, leadership activities, committee/event involvement.
Business Support of the Arts
Has visibly and notably partnered with artists or shown leadership in support of the arts community in Fuquay-Varina. Nominations will be vetted by the Fuquay-Varina Arts Council.
The deadline for nominations is March 15th.
If you have any questions about this event, or would like to discuss sponsorship opportunities, please contact Angela Lassiter at angela@rainbowhomeinteriors.com or (919) 524-4077.
[x-box-perceptive boxstyle="content" bg_color="hsl(132, 1%, 87%)" content_position="middle" nav_position="top" align="center" col_width="50″ box_radius="10″ max_width="1200″ min_height="300″ href_target="false" primary_style="DINNER MENU" box_style="content"]
DINNER MENU
Appetizer Selection
Imported and domestic cheese display with flatbreads and artisan crackers
Crudité basket with California Green Goddess dressing
Baked brie en croute with black raspberry preserves and toasted pecans
Salad
Raddicchio, endive, and romaine salad with Cheshire bacon, heirloom tomoatoes, shaved asiago, StickBoy garlic croutons and a sage buttermilk dressing
Buffet Dinner
Seared certified Angus sirloin center-cut hearts with a mélange of Carolina mushrooms in an Adams Vineyards 2011 Merlot demi-glaze
Scottish salmon piccatta with a Roman frascati, capers, shallots, sautéed spinach, and lemon butter sauce
Chicken caprice with fresh tomato, Hook & Cleaver mozzarella, basil and a sun-dried tomato sauce
Pommes dauphinoise: Russet potatoes with fresh cream, chives and parmesan gratin
Wild harvest rice with scallions, cranberries and orange zest
Vegetable medley of green beans almandine and balsamic glazed multi-colored baby carrots
Assortment of StickBoy french rolls, sliced baguettes and European butter
[/x-box-perceptive]